How does insurance work in Aircnr
INSURANCE
For a limited time, all Aircnr hosts can make money with insurance! Aircnr is temporarily giving all our initial hosts the ability to make more money with insurance by charging their guests an insurance fee. Since all hosts will be utilizing their personal vehicle for commercial purposes (leasing it to guests), they are required to purchase commercial auto insurance. However, Aircnr gives the hosts the ability to charge their guest a nightly insurance fee to help pay for the commercial auto insurance. This being said, the Aircnr's host (the owner of the vehicle) is responsible for all damages or theft of their own vehicle. However, if the guest (the renter) does not follow the program rules, did not follow the law, or drives recklessly, the guest will be responsible for all damages. Keep in mind that this insurance policy is only temporary and it is subject to change. An example on how hosts can profit from insurance in Aircnr is as follows: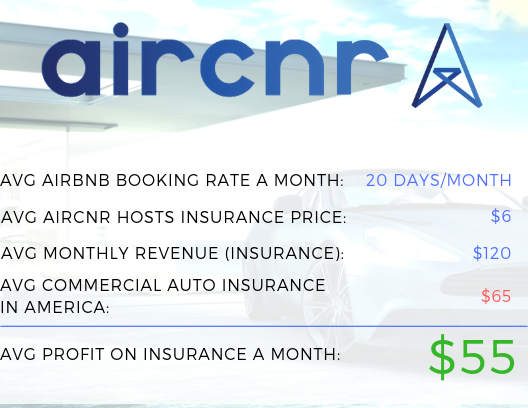 Attention:
The ability to make additional income from insurance in Aircnr is only provisional. Please, keep in mind that this possibility is only temporary and will change in the near future. This a community based on trust and safety. All guests will originate from the same trusty community. Therefore, we kindly ask all hosts to charge insurance fee with the objective to facilitate policy payments and NOT to inflate listing prices. Please, be responsible with your desired insurance fee and always keep the guests in mind (the cheaper the listing the more bookings).
If you have any questions, comments or feedback on the insurance, please feel free to reach us at

support@aircnr.com

. We thank you for your cooperation and for helping the community grow.